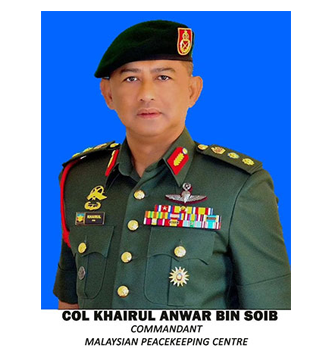 Salam Sejahtera and Welcome!
I am the Commandant of the Malaysian Peacekeeping Centre, Colonel Khairul Anwar bin Soib, and it is my pleasure to welcome you to our official website.
The Malaysian Peacekeeping Centre, or MPC is one of the premier peacekeeping training centres in the world. We are proud of our 25-year history of Partnering for Peace with friends and colleagues from the United Nations family across the globe.
On this website you can discover everything you need to know about us. From the history of where MPC began; our vision and blueprint for the future; all our courses and training provided here even MPC staff activities.
Use the site to browse the history and photo gallery of MPC or head directly to the detailed descriptions of course availability and content. We love to hear from our alumni, students, and guests; past, present, and future so please feel free send us a message or some feedback via our Contact us page.
I am looking forward to meeting you all
Khairul Anwar bin Soib
Colonel
Commandant MPC